A wheelchair hoist sex swing helps wheelchair users enhance their sex life. Tetraplegics (quadriplegics) and paraplegics often find it difficult to achieve some sexual positions. Sex after a spinal cord injury is made hard by paralysis and poor mobility. The sex aids mentioned in our wheelchair sex article raised many questions. Here we take a closer look at a wheelchair hoist sex swing. Some paraplegics and most tetraplegics will already own a personal hoist and sling of some description. These make suitable assistive devices for intercourse and love making. Avoiding the expense of an actual sex swing.
Who Uses a Wheelchair Hoist Sex Swing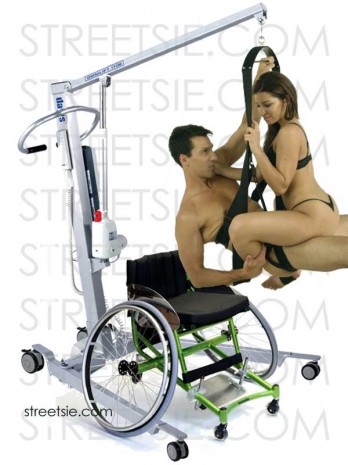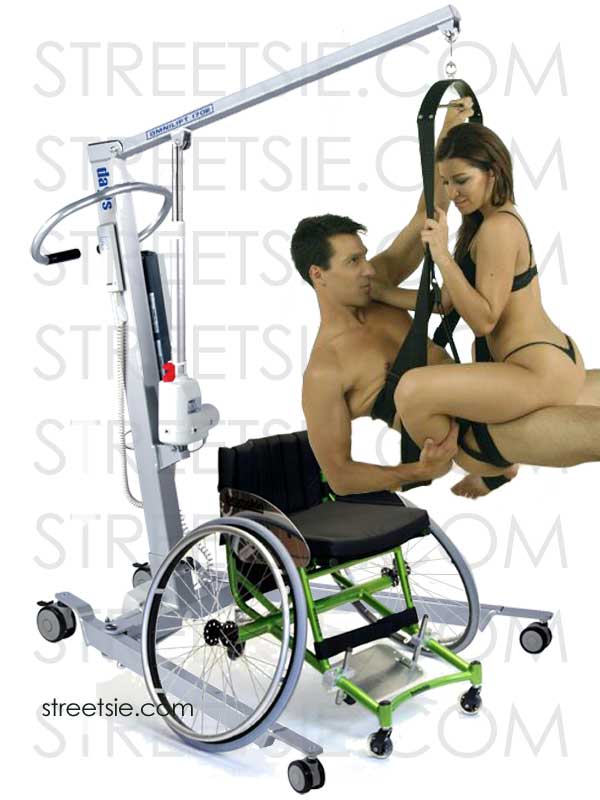 By far the majority of wheelchair hoist sex swing users are regular able bodied heterosexual couples. They can however, be of great assistance to wheelchair users with paralysis. Like those with a spinal cord injury. A wheelchair hoist sex swing may be unknown to people with a disability. Few discuss sex with wheelchair users for fear of offending, or getting offended. Also, many hold the opinion disabled people don't, or should not, have sex. Others believe all disabled people are oversexed. These misconceptions are slowly changing. We encourage healthy discussion on wheelchair sex life and sex after spinal cord injury. We promote the many beautiful aspects of disability.
Suited to lovers of different sizes and disabilities, it's easy to adjust the height and angle of your body, in a wheelchair hoist sex swing. All without detracting from each other's arousal. Quality sex swings offer neoprene padded supports for your butt and back, and stirrups for legs or feet. It's just a matter of finding what suits you and your disability. Adult stores stock sex swings but we suggest searching online first. Research what type may best suit you. Buying online could save you time and money as well.
Why Use a Wheelchair Hoist Sex Swing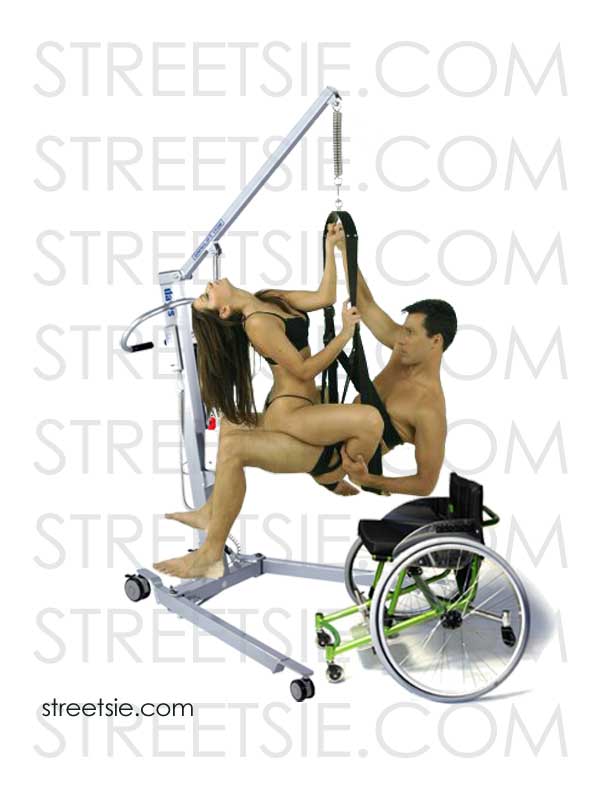 Difficult sexual positions are no longer exclusive to the athletic and sexually gifted. With a wheelchair hoist sex swing disabled couples can be more sexually adventurous. They can achieve stimulating sexual positions previously only imagined. Reap the benefits of pleasure a wheelchair hoist sex swing can arouse. A healthy imagination in lovemaking is key to generating pleasure. It helps to renew the desire for sexual intimacy. By experimenting with new positions in the bedroom, you can swing your love life into action. Enjoy weightless sex in unlimited positions. Explore your deepest fantasies.
Take a go slow approach until you are comfortable and confident. It is possible to overbalance in some sexual positions. You may slip right out of the wheelchair hoist sex swing harness performing others. A personal hoist sling can be of advantage in that respect. While not as many positions are achievable, they require minimal balance. Personal hoist slings are purpose designed to prevent from dropping a person, no matter their handicap.
Using a wheelchair hoist sex swing enhances disability sex life. They are not sleazy. They simply make sex with a disability easier. Wheelchair lovers are often amazed how easy these make sex. 
Challenging sex positions, that require exertion and skill, become easy using a wheelchair hoist sex swing. You can find the right angle to achieve deep penetration with minimal exertion. Sexual positions never felt so good effortlessly. Put more comfort and enjoyment into your disabled sex life. Swing into action and sex it up.
Wheelchair Hoist Sex Swing Components
Sex Swing: The sex swing is all you need. Optional extras are a heavy duty spring, frame and hoist. A good quality sex swing harness is made from neoprene padded adjustable ballistic weave nylon straps. These provide maximum comfort and strength. The swing costs around $120.00 USD.
Sex Swing Spring: A heavy duty high tensile steel spring is ideal for those with limited mobility, like quadriplegics, or tetraplegics. The spring helps to minimize the effort required to make rocking and bouncing motions. The average sex swing spring can suspend around 200 lbs. Your local hardware store may have a cheaper option. A sex swing spring costs about $180.00 USD.
Sex Swing Frame: The sex swing frame is like a tent frame. It is a free-standing rigid metal frame to suspend the sex swing from. Most sex swing frames hold up to 400 lbs. There are many types of frames ranging from $150.00 to $500.00 USD.
[nggtags gallery=fantasy, swing]
Sex Swing Hoist: Some hang their sex swing from an eye-bolt in a doorway, ceiling joist, or beam over their bed. We recommended any eye-bolt installation be done by a qualified carpenter. Or you can hook the swing onto a hospital style, personal hoist. Take advantage of the hoists raising and lowering capability. If you don't own a personal hoist, there are a few sex swing models that come with a hoist. Using a remote control you can raise and lower the swing effortlessly. Personal patient type hoists cost thousands. Sex swing hoists cost around $550.00 USD.
Already Have a Personal Hoist
Check the maximum weight rating before you go bouncing around in any hospital style, personal hoist. Remember safety first pumpkin. Position any personal wheelchair hoist sex swing over a bed. Or place something soft below you in case you fall. Keep a phone within reach. Just in case it all goes horribly wrong. Good luck explaining your dilema to emergency services lol.
Occasionally, both sexual partners have very limited mobility. Two tetraplegic (quadriplegic) lovers for example. They are restricted by poor hand and arm function. An electric battery powered patient hoist with remote control is ideal. It will help to make wheelchair hoist sex swing positions much easier. That is the purpose, easier love making for people with a disability.
[nggtags gallery=swing]
Some see a wheelchair hoist sex swing as nothing more than a kinky S&M bondage device. Strip teasing, pole dancing, a vibrator, these things are not everybody's cup of tea. Personal hoists are used for transferring people with high level cervical C1-C7 tetraplegia. Paralyzed from a spinal cord injury, wheelchair users transfer into and out of bed etc, with a hoist. In the home however, a personal hoist can serve many purposes. Limited only by imagination. Most tetraplegics will already own a personal hoist and sling. These can be used as a wheelchair hoist sex swing. It's just another perk of dating a tetraplegic.
Five Common Hoist Sling Types
Here are five common hoist sling types. Four are suitable for use as a wheelchair hoist sex swing. As an assistive device for sex and intimacy after spinal cord injury. The fast fit, and toileting (or dress) slings, offer the greatest freedom and sexual access. Hammock type slings are restrictive. Material covers the private areas. Hammock slings are fine for able bodied folks. Hammock slings are not well suited for sex with wheelchair users. Or any disability where a severely compromised range of motion, poor motor function, or extensive paralysis exists.
[nggtags gallery=sling]
By not crossing leg straps (sections that come up between the legs) legs spread wider apart in slings. This is great for sexual access, but it does create the risk, of slipping right through the sling. Lengthening top shoulder straps reclines a person into a flat supine (face up) or prone (face down) position.  This is good to hover your partner over you on a bed and rock back and forth.
Wheelchair Hoist Sex Swing Tips and Tricks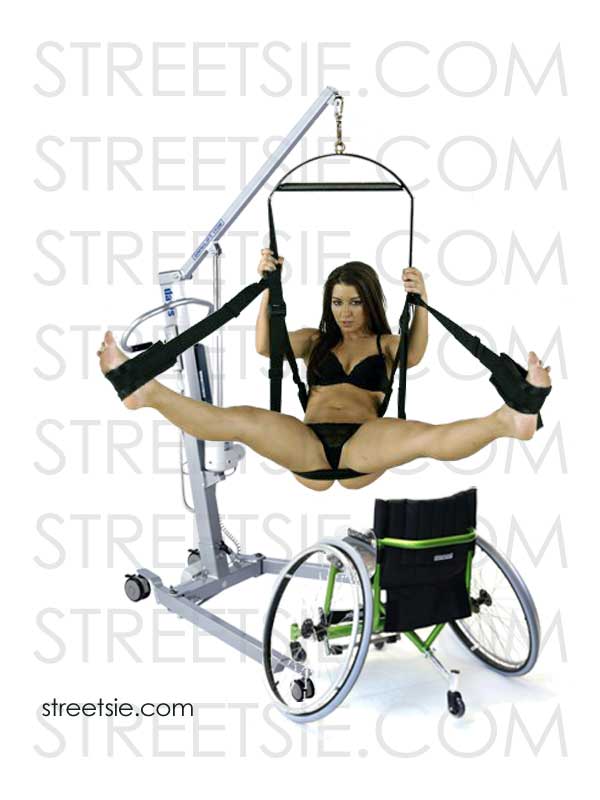 The disabled wheelchair user does not always have to be the one in the sling. Switch it around and use your imagination. Try a 360 spinning motion if you dare. Climb in on top of your partner in your wheelchair hoist sex swing sling. Pushing the sides of a sling outward raises it a few inches. By pushing, and relaxing quickly, you can get a rhythmic bouncy motion going.
Try a little something new. Tie your disabed lover up and use the hoist to position them exactly where you want them. Blindfold and spank with a spatula lol. It's all about having fun. Good love making begins in the brain hours before intercourse happens. Scented candlelight, massage, music, lingerie etc, all enhance the sexual experience. Get into the swing of it. For more tips on sex after spinal cord injury, and sex with a disability, see our wheelchair sex article.
RESOURCES