Rasso Bruckert captures disability through the camera lens in a strikingly warm photographic collection Perfect Imperfect themed on nudity and handicaps, showing with sensitivity yet openly and very directly, that disabled people are totally capable of developing their sexuality, self-confidence, individual esthetics's and eroticism.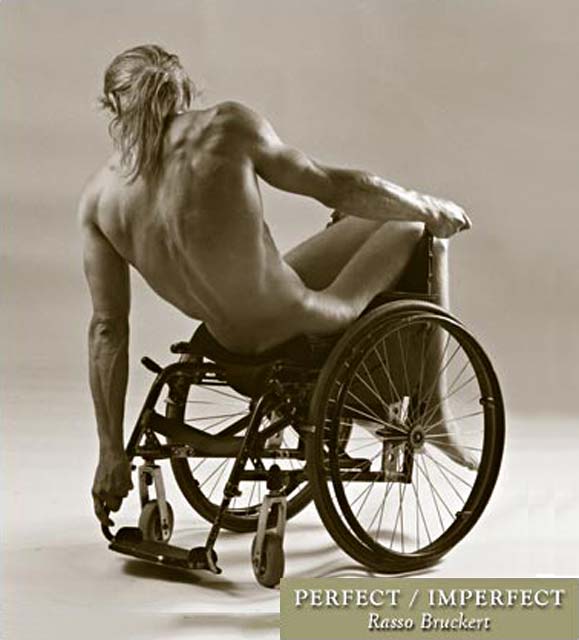 Bruckert challenges us to re-think the concept of beauty. If we desire love, partnership and sexuality in a confident and satisfying way we might first begin by accepting, appreciating and maybe even loving our own bodies. 
Now it stands for us to redefine the term "beauty", to create it consciously and individually. 
The idea for his photographic series Perfect Imperfect came to Bruckert back when he was studying in San Francisco. Inspired by works of Robert Mapplethorpe he pondered the highly taboo thematic of nude and handicap.
Well-renound throughout Germany photographer Rasso Bruckert explains his reasons for embarking on what at the time was a most controversial undertaking Perfect Imperfect.
 
For decades there have been these dreadful pictures of us (disabled) in the media – the small, pitiable, disabled person in a corner — often badly photographed. This was always a terrible thing for me, and a sort of motivator that compelled me to try and do way with these belittling "hospital pictures" as I used to call them. 
 
Because I myself am disabled, it seemed easier for me to photograph a disabled person in the nude, as opposed to someone who was not disabled in the nude. Nevertheless, when I first asked friends to pose for me, I would approach them fearing that I would be stoned to death. – Rasso Bruckert 
The idea of photographing people with disabilities naked was never discussed openly. It was and mostly still remains a taboo subject. Nevertheless, in Perfect Imperfect Bruckert endeavors to present the physically challenged body aesthetically in all its raw sensual beauty.
Physical disablement and beauty did not coexist. Not even amongst us the disabled. Remarking, I suppose I had more barriers in my head than they did, Burckert was happily surprised to find his modeling requests were met with a spontaneous readiness to consent.
[nggallery id=32]
In the beginning I was too cautious to provoke with my work. I didn't want to hurt or compromise the feelings of others with my photographs. I have now become more open minded, I want to provoke a positive "aha". It is my wish that the photographs grip and intrigue the viewers so that they may sense the beauty, strength and self confidence of the subject.
 
Criticism has generally been positive. People like the photographs a lot. They consider them aesthetic, interesting and erotic. They now realize that the subject "the disabled" can be viewed and dealt with in a different light. – Rasso Bruckert
Perfect Imperfect has exhibited in several cities including Germany, Switzerland, and Austria and has been seen in Atlanta, Georgia and Sydney, Australia. Commentaries of this exhibit have appeared in numerous newspapers and magazines as well as on European Television. If you get the chance to see this inspiring body of work your life will be the richer for it.
Resources