The idea for Intimate ENCOUNTERS first came to Belinda Mason-Lovering in 1998. Photographing a conference on Sexuality and Disability, Mason-Lovering became aware that although society attends to the needs of people with disabilities, it appeared unable to deal with the tangled issues surrounding sexuality. This realization spawned the development of Intimate ENCOUNTERS.
Over the next four years, Mason-Lovering traveled around Australia, meeting, photographing and engaging subjects in extensive conversations to explore their feelings and attitudes towards their own sexuality. Belinda worked with each participant to develop an image which reflected their own particular personal and emotional journey. 
Intimate ENCOUNTERS - Disability and Sexuality: features two installations and thirty photographic images with essays by 40 people who collaborated with photographer Belinda Mason-Lovering to express their desires, needs, love and affection reflecting the diversity of their experiences of disability through the lens.
Participating in this project we are making the personal political. There is a dearth of empowering, positive, sexy images of disabled people and we want to be a part of the movement to change this. We chose 'United we sit' as our slogan to emphasize our solidarity with other disabled people and to challenge the norms. Dominic often needs to use a wheelchair and so we wanted to incorporate his impairment into the image too. – Dominic Davies and Lee Adams
Dominic is an activist and a Senior Registered Practitioner with the British Association for Counseling and Psychotherapy. He is the co-editor of three volumes of Pink Therapy and a co-author of The Sexual Politics of Disability: Untold Desire. He is a Visiting Fellow at Nottingham University and a Visiting Lecturer at Leicester University. Dominic has scoliosis and chronic pain.
Lee is a curator and interdisciplinary artist, who works extensively in sculpture, theatre design, film, video, live performance and installation. He has exhibited widely. Lee is the Artistic Director and Producer of Sexmutant an international real-time and on-line project reconfiguring (trans) gender and sex(uality) in contemporary visual and live arts practice.
The men and women Mason-Lovering photographs are people with physical, intellectual, learning, psychiatric and neurological disabilities. By being photographed and by talking about their lives they share some of their most intimate thoughts and feelings with those who gaze on their images.
In the words of its creators:
Intimate ENCOUNTERS explores the myriad connections between disability and sexuality. A sense of our sexual selves is as vital to our existence as the air we breathe. This is the pervading message present in every image in the series. The quest is to create images which 'tell a thousand words' and which reflect sexual diversity without tokenism.
Choosing how they were represented, working in close collaboration with the photographer and taking control of their image and the text that would accompany it, was seen as a widely liberating experience for the participants, enriching the personal, political and artistic aspects of the project.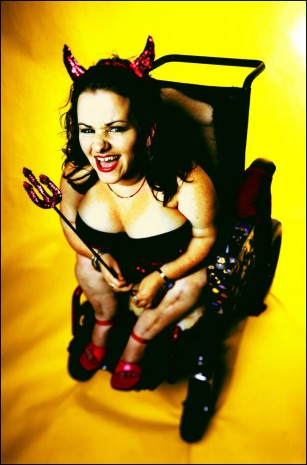 That these photographs vary from playful, romantic, passionate or heart wrenching reflects the diversity of experiences of disability, and within that the diversity of lives and desires, an acknowledgement that disability is just one part of a life experience. The intimate connections between the participants underscores the fact that all are activists and allies in a global struggle for a basic human right–the right to be a sexual person.
We all have our own, unique sexual journey, mapped out with secret adventure, whispered aspirations, with the pain of risk and the over riding urge for intimacy. It is a journey that, if fully embraced, determines and moulds our identity and self-worth.
Initmate ENCOUNTERS challenges the hidden myth in our society that only the most glamorous, attractive and successful among us live active, healthy and imaginative sexual lives. Ultimately, it's about how we feel about our inner selves that let's us free each other to lead larger lives.
As Kiersten Fishburn of Accessible Arts points out:
For we viewers, it is not only a beautiful and thought provoking exhibition but a chance to identify the commonalities of the need for love, for connectedness, for sexual and creative expression. It creates a dialogue that allows disability "voices" to be heard; it is one step in integrating these voices into all our cultural and community conversations. – Kiersten Fishburn
Intimate ENCOUNTERS has been touring Australia extensively for the past six years. The exhibition was seen in Sydney, Melbourne and through regional Victoria, the Northern Territory and Western Australia and internationally London, New York, New Zealand, Barcelona and Paris.
Belinda Mason has a history of pushing the limits of imaginative social documentary photography I know of no other photographer who has so consciously pursued difficult unfashionable subjects such as the sexuality of the disabled. – a body of work that seems destined for prominence – Rob McFarlane, Art Critic, Sydney Morning Herald
Audiences flocked to see the show around Australia. Media and audience reactions have been varied and not without some controversy. Reaction has ranged across the spectrum with some people horrified and confronted by nudity and the display of disability but with the vast majority finding the show eye opening, inspirational and beautiful in its honest representation of human sexuality.
Resources