I'm about to show you how to stop phpBB3 forum spam without using CAPTCHA, math equations, filters, 3rd party API or RBL databases, email ip or bad word lists. Yes we tried them all. While they have their purpose newly created spammer email accounts still get through.
Here I share with you a very simple yet effective industry insiders secret to stop phpBB3 forum spam user registrations using a custom profile field. It's quite simple, no spam user registrations = no spam posts. So let's get to it.
Within phpBB3 Administration Panel
Users And Groups> Custom profile fields> Type "antispam" in the field> Select "Numbers" from the dropdown box> Click the "Create new field" button.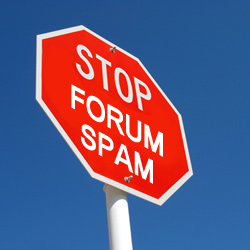 Add profile field
Field type: Numbers
Field identification: antispam
Publicly display profile field: No
Visibility options
Display in user control panel: No
Display on registration screen: Yes
Display on viewtopic screen: No
Required field: Yes
Show field if no value was selected: No
Hide profile field: Yes
Language specific options
Field name/title presented to user: Confirmation
Field Description: This box must contain the number 4 only
Click: Profile type specific options
Length of input box: 4
Lowest allowed number: 4
Highest allowed number: 4
Default value: 4321
Want to see it in action? http://www.streetsie.com/forum/ucp.php?mode=register
You may find after updating your phpBB3 version some spam gets through. Simply repeat the above to create a new custom profile field using a different name and number then delete the old custom profile field. Enjoy all the free time you now have.