Sarah Casteel two time national wheelchair tennis champion suffered a paralyzing spinal cord injury when a drunk driver slammed into the car she was driving on Independence Day in 2002. Tragically her 15 year old brother in the car at the time, did not survive the accident.
Casteel, 18 years of age, was taken to the University of Missouri Hospital where she not only had to cope with the loss of her younger brother but the loss of her mobility. Now a paraplegic, she would not walk again.
Sarah remained in the hospital for three months before returning to her home in Greenville, South Carolina to continue with physical therapy.
Life with Paraplegia
Prior to the accident Sarah Casteel was an all-state volleyball player who excelled in tennis, competing on the boys' tennis team in high school because there was no girls' team and later played for Stephens College in Columbia, Mo. In her freshman year of college she wanted to study fashion design and art, but that all changed in an instant.
After the accident Casteel returned to Stephens College where she quickly discovered it was not wheelchair accessible. Many of her classmates were less than compassionate unfamiliar and uneasy with her new found paraplegia.
It was not good. It was weird; my life had changed so much. I found out I didn't have friends anymore. A lot of people I thought were my friends disappeared. I guess they couldn't deal with it. It was very hard. I decided this was not the place for me anymore. – Sarah Casteel
Casteel began looking for another school, one that could accommodate her wheelchair and improve her quality of life. She found such a place at the UTA (University of Texas in Arlington). She applied and received a wheelchair tennis scholarship to attend the UTA.
The occupational therapist I worked with in Missouri actually introduced me to wheelchair tennis, so I started looking for a school with a wheelchair tennis program, and the University of Texas actually was offering a scholarship for wheelchair tennis. I made friends there and I was No. 1 on a team of four. I competed against other colleges and in national tournaments. – Sarah Casteel
National Wheelchair Tennis Champion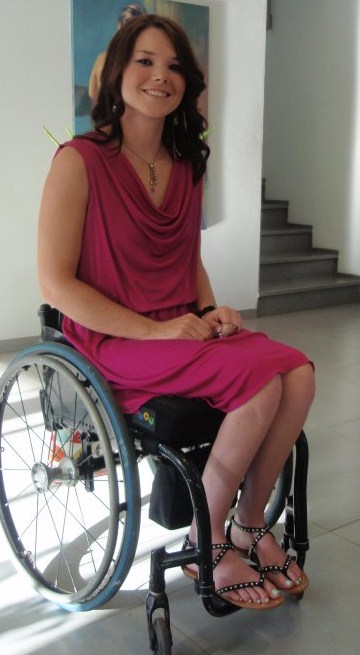 The two time USTA (United States Tennis Association) national champion 2004-2005 Sarah Casteel has also competed in the World Cup held in the Netherlands. Graduating from Stephens College in 2005 with an Inter-disciplinary Studies degree with a focus on biology, she decided to pursue a career helping others.
A connection made with an occupational therapist in Missouri inspired her to become an Occupational Therapist. This led her to the Medical University of South Caroline (MUSC) where she graduated in 2009 with a Master's in Occupational Therapy.
Training for a spot on the USA Paralympic wheelchair tennis team to compete in the Beijing Paralympics 2008 was interrupted when the steel plates and screws that fused her spinal vertebrae together began to irritate. After further spinal surgery and several week's recovery, the unstoppable Casteel was back in training with her coach, Crafton Dicus, and competing nationally. Becoming a member of the U.S. Tennis Association High Performance Wheelchair Tennis Team.
Wheelchair Tennis Paralympic Games
Now with the guidance of pioneering wheelchair tennis coach Chuck McCuen, striving to hold a place in the World Cup Team 30 year old Sarah Casteel, a world-ranked wheelchair tennis champion feels she has a shot at representing her country in the Paralympics Games in London 2012. With the formidable tenacity Sarah Casteel has approached life with and a mean top-spin backhand that could snap your head off, whether Sarah makes the Paralympic team or not she will continue to inspire as all.