Admission to hospital with spinal cord injury is for most a hazy memory of frantic doctors and nurses testing one thing or another. Whether you've been through the process or are interested in what's happening to a loved one, we take a closer look at primary and secondary clinical examinations. From a quadriplegic patient point of view I share my thoughts and feelings experienced at the time.
On average 350 people require hospitalization and treatment for spinal cord injury in a specialized spinal unit in Australia each year. That is 15 per million of the population (aged 15 years and older). Ongoing costs associated with long-term care are estimated to be more than $500 million AUD per year. International incidence rates for spinal cord injury range from 10 to 40 cases per million population.
AUSTRALIAN SPINAL INJURY UNITS
Australia has six hospitals with specialized spinal units that care for SCI patients. They are located in the following five States:
Queensland (Princess Alexandra Hospital)
NSW (Royal North Shore Hospital & St James Hospital)
Victoria (Austin Hospital)
South Australia (Royal Adelaide Hospital)
Western Australia (Royal Perth Rehabilitation Hospital)
 
Tasmania, Northern Territory and the A.C.T. do not have Spinal Units and SCI patients are sent to the closest interstate Spinal Unit.
PRIMARY EXAMINATION AND TREATMENT
When a spinal cord injury patient arrives at the nearest major emergency department, a detailed history is sought from paramedics, witnesses, and if conscious the patient while transferring quickly and smoothly to a trauma trolley. A spinal board is an ideal transfer device as resuscitation can continue with little interruption. A scoop stretcher is also adequate but a slower process. In the absence of either device, trained personnel can perform a coordinated spinal lift. Correct lifting and transfer techniques are essential to avoid further damage to the spinal cord and greater paralysis.
Full general and neurological assessments are undertaken in accordance with the principles of Advanced Trauma Life Support (ATLS). The examination must be quick yet thorough because spinal cord injury is frequently associated with multiple injuries. The patient's airway, breathing and circulation – ABC n that order — are the first priorities as the spinal injury itself can directly affect the airway (for example by producing a retropharyngeal haematoma or tracheal deviation) as well as the respiratory and circulatory systems. The cervical spine (C1-C7 neck) is then secured in the neutral position, a central nervous system assessment is undertaken, and any clothing removed.
Spinal Cord Injury can be accompanied by:
Head injury (coma of more than 6 hours duration, brain contusion or skull fracture) 12%
Chest injury (requiring active treatment, or rib fractures) 19%
Abdominal injury (requiring laparotomy) 3%
Limb injury 20%
SECONDARY EXAMINATION AND TREATMENT
Having addressed any immediate life-threatening injuries, a secondary examination (head to toe) aims to identify and treat other serious injuries. The patient should be kept covered as much as possible and body temperature monitored while conducting the secondary examination. In the supine (face up) position, cervical and lumbar abnormalities of the spine may be detected by gently sliding a hand under the patient. If neurological symptoms present, a senior doctor or spinal specialist may direct a partial log roll to examine the back for specific signs of injury. Signs include local bruising or deformity of the spine (e.g. increased interspinous gap) and vertebral tenderness.
The entire length of the spine must be inspected, as about 10% of patients with an unstable spinal injury have another secondary spinal injury at a different level. Priapism (an erect penis or clitoris not returning to flaccid state within four hours) and diaphragmatic breathing (abdominal breathing) are signs of a high spinal cord lesion. Warm limbs are indicative of good circulation but should not negate the possibility of neurogenic shock attributable to spinal cord injury. A good secondary examination includes a thorough assessment of the peripheral nervous system.
Diagnosis of intra-abdominal trauma is made difficult amongst those with high spinal cord lesions (above T7). Lack of abdominal sensation together with diaphragmatic breathing can mask the classic symptoms of abdominal swelling, bruising and pain. Signs of peritoneal irritation do not develop however the pain may be referred to the shoulder from the diaphragm and this is an important symptom. When blunt abdominal trauma causing internal bleeding is suspected a peritoneal lavage (flexible plastic tube inserted into abdomen) or computed tomography may be performed unless clinical concern justifies an immediate laparotomy. Abdominal bruising from seat belts, especially isolated lap belts in children, is associated with injuries to the bowel, pancreas and lumbar spine.
The log roll during secondary examination provides ideal opportunity to remove the spinal board. While necessary to restrict any flexion or rotation of the spine, these rigid boards create pressure points on the occiput, scapulae, sacrum, and heels. Abnormal spinal column alignment and broken bones are also highly susceptible to pressure area marks, poor circulation and skin degradation. It is generally recommended the spinal board be removed within 30 minutes of its application whenever possible. Should a spinal board be required for longer than 30 minutes use of a pressure relieving mattress is recommended. In the field these typically include memory foam (tempura) and vacuum bead types. Interface pressures are much lower when a vacuum mattress is used and patients report the device is much more comfortable than a spinal board.
EMOTIONAL CATHARSIS
If you are still awake having covered the clinical primary and secondary assessment key points above, let me tell you as someone who has endured this process, this is where I experienced sheer heartbreak. My life was over. All those swarming around me connecting monitors, delivering injections, setting cannula's and installing catheters, essentially placing me on life support, faded into the background. I crawled so far inside myself I sometimes wonder if I will ever truly return. Anxiety subsided, fear evaporated and with a single cold tear trickling past my temple I slipped into the darkness.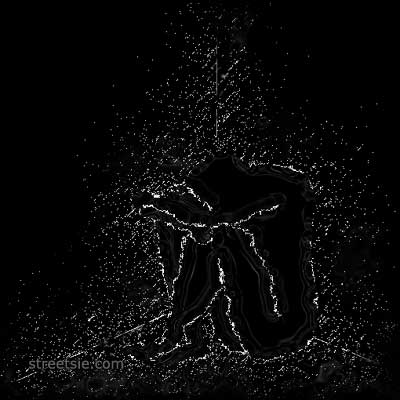 I had always said, the scariest place to leave me is alone in my own head, and here I was, at the gates of my own demons residence. Curled up in a ball my life flashed before my eyes. Like so many old projector slideshows on a fibro wall in Brighton, my boyhood memories from pedal cars to last sweet kiss flickered by all scratched and torn, then faded away.
A voice was calling my name, I was reluctant to look. My eyes cracked open to see a huge surgical steel hammer pass within inches of my face, You may feel a bump here the doctor said, as a spike was driven into my skull just above my right ear. The left was just as bone crunching loud but also painless.
The drugs had kicked in clawing me back from the abyss. My fight had just begun. Exaltation to deep depression would persist over the next three months but drawing on this emotional catharsis gave me great peace despite the gravity of my situation and in time would come to fast-track my acceptance of quadriplegia.