Professor X never had it this good. In true X-Men style this mutant wheelchair was built by Daniel Valdez for steampunk. It's modeled on the one used by Professor X (Charles Xavier) of the popular X-Men genre. With more steel than Wolverene the fine attention to detail and intricate brass work not only makes this rocking chair – power wheelchair hybrid visually stunning, it's fully functional and features its own bar, sound system and even produces special effects.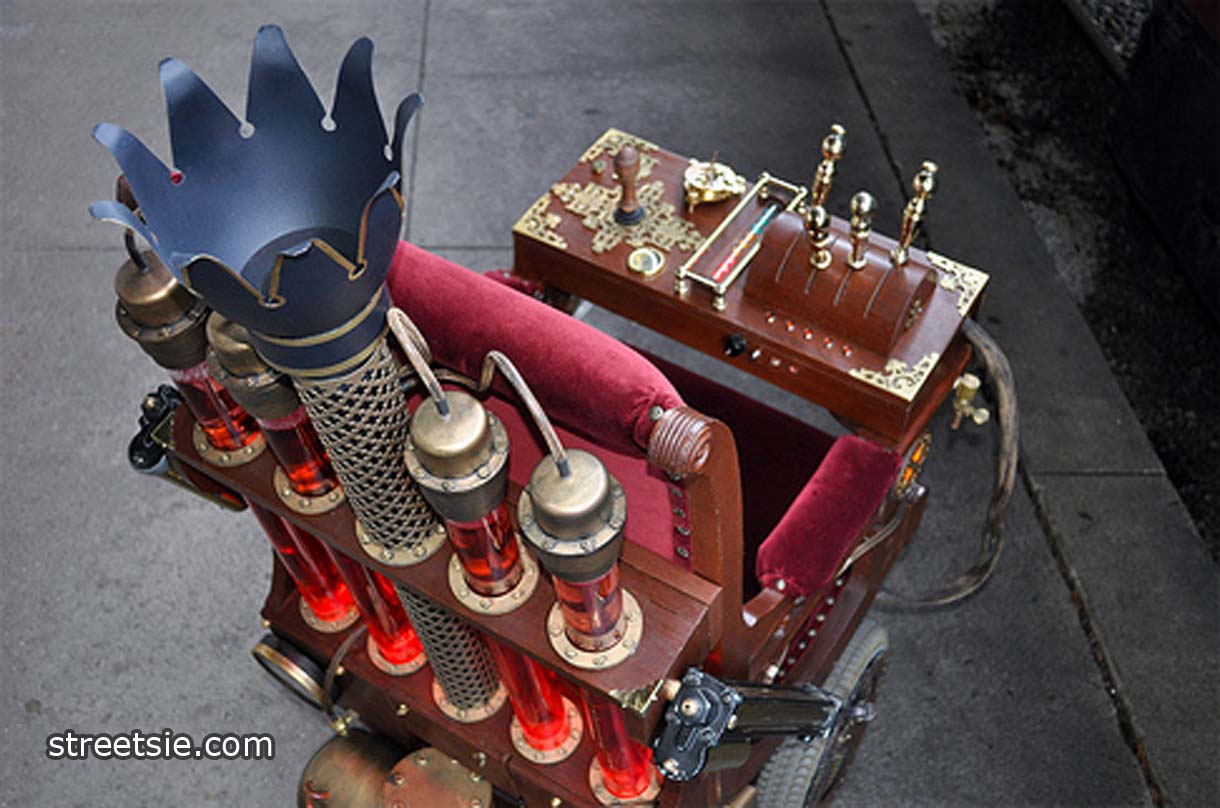 Daniel reframed and reupholstered a 1885 Eastlake Victorian platform rocking chair and fitted it onto a heavily modified modern electric Permobil C300 power wheelchair base. The brass side pistons were salvaged from a 1930's iron works where they once pumped the bellows. A tap beside your knee allows you to dispense drinks from four rear bubble tubes filled with vodka cranberry and lime juice. Can't have Professor X's catheter blocking now can we lol. The bubbles keep the tasty beverage mixed before being pumped through an ice chamber to be serve chilled.
Although Daniel does not have a disability requiring the use of a wheelchair he has always been fascinated by motorized wheelchairs.
"I do not NEED the wheelchair for any physical disability this is a costume/prop. I get asked that a lot by many people and I hope that fact doesn't offend anyone. Whenever I've shown this I've perked the interest of many people who DO need a wheelchair and I hope it has inspired them to seek out modifications of their own to individualize themselves." –Daniel Valdez
The controls offer all the functionality of a modern power wheelchair with on/off switch, joystick steering, LED battery level indicator, and speed settings. An Adafruit Waveshield sound system with amp, two car speakers, two tweeters and a 5 inch micro sub woofer built into the frame makes the MP3 player echo louder than a Banshee growling as the controls are used.  The final touch on this mobile enigma is steam that billows from the Wizard Stick torch attached to the backrest.
"My back is shattered, a parting gift from the Shadow King… it appears if I am ever to achieve my dream… I will need all of you… to walk me there."  –Professor X (Earth-616).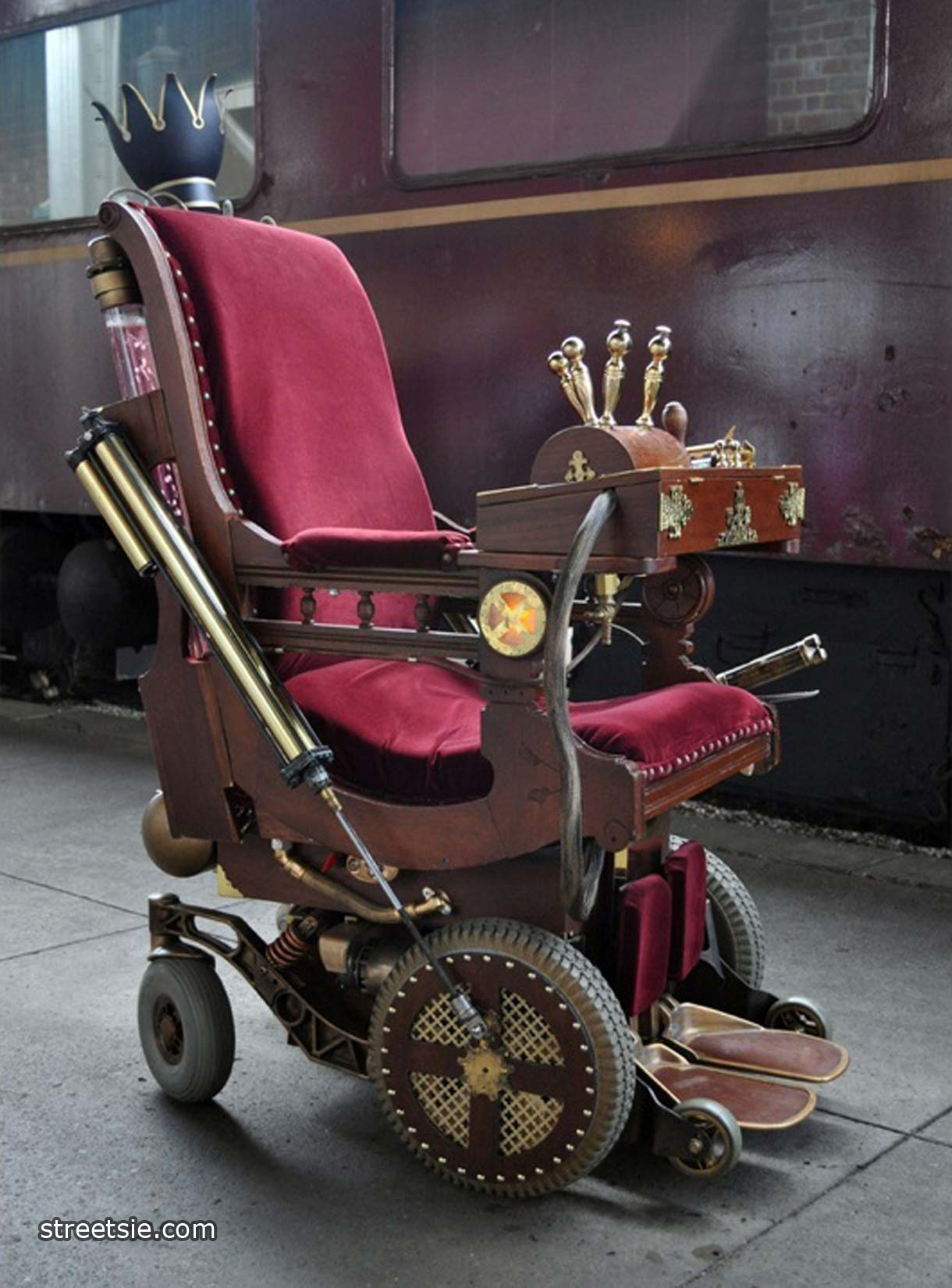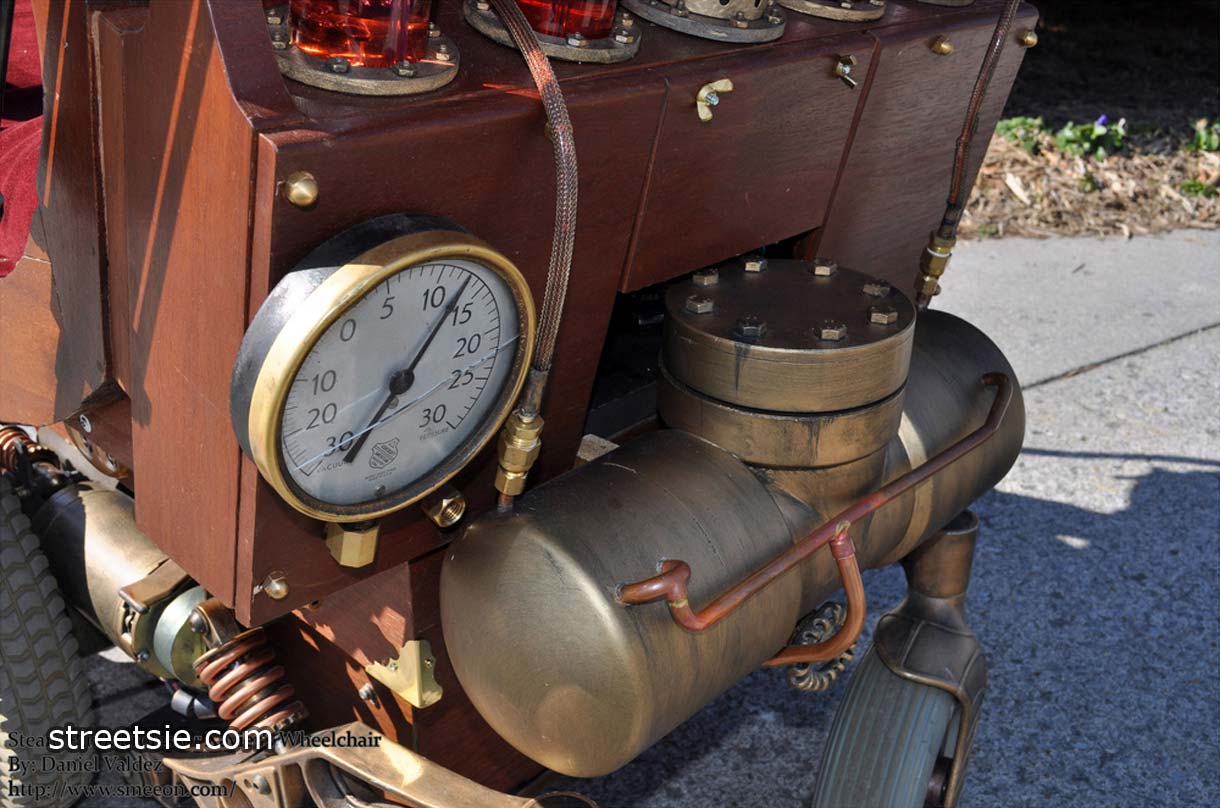 RESOURCES
Daniels wheelchair photos on Flickr: http://www.flickr.com/photos/smeeon
YouTube video: http://www.youtube.com/watch?v=wRt8YRUYahE
SteamPunk Professor X: http://steampunk.ning.com/profile/DanielValdez
Arduino Waveshield: http://www.ladyada.net/make/waveshield
Wizard Stick: http://www.zerotoys.com