In 2005 the Australian Council Of Social Service (ACOSS) agreed with the Government that Australia needed to bring more people of workforce age with a disability into employment. ACOSS stated that compared with other wealthy countries, we have a poor record in this area. Only 9% of disability pensioners have income from employment compared with an average of about 30% for other wealthy countries. Comparing the ACOSS report from 2005 to todays reports and outcomes for people with diabilites in 2010 sadly little has changed.
Intended to ensure people with disabilities have adequate levels of income and maximum opportunity to participate in society the Disability Support Pension (DSP) is still widely regarded as "the end of the line" for people's career prospects.
Until 10 May 2005, people qualified for the Disability Support Pension if they had an impairment that prevented them from working (or being re-skilled to work) for 30 hours a week at or above the minimum wage for at least the next two years. This changed from 30 hours a week to 15 hours a week for some working age people applying for this income support payment between 11 May 2005 and 30 June 2006, and for all new claimants from 1 July 2006 through 2010.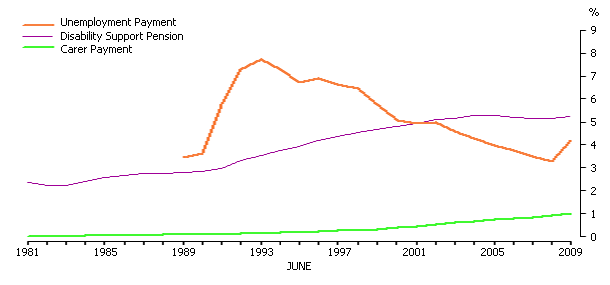 Source: Australian Government Department of Education, Employment and Workplace Relations.
At 1.7% in June 1972 there was only 138,818 people receiving a Disabiliy Support Pension. It took 34 years for the percentage of people receiving a DSP to rise to 5.3% in June 2004 with 696,742 people receiving a DSP, an average increase of 0.05% per year. Over the last 5 years given the eligibily criteria dropped to 15 hours/week, and that the number of people living with a disability increases every year, it is suprising the percentage of people who recieve a Disability Support Pension has remained much the same. In fact, the proportion of working age people receiving a Disability Support Pension actually dropped to 5.2% in June 2009.
COMMON DISABILITY SUPPORT PENSION MISCONCEPTIONS
It's easy to get the disability pension.
Many people on DSP don't have "real" disabilities, just "bad backs."
People who can work part time don't have a "real" disability and shouldn't be on DSP.
DSP has become an early retirement payment for older men, and that's the reason the number of recipients doubled over the last 15 years.
Governments have made it easier to get DSP in order to hide unemployment.
Australia has more people on disability payments than comparable countries.
If we don't make it harder to get the pension now, Governments won't be able to afford the DSP in future as the population ages and more people have disabilities.
If the Government made it harder to get DSP, a lot more people with disabilities would find jobs and go off welfare.
 
No solid evidence has been presented to back these claims. They are myths, not facts. While it's true that the number of DSP recipients has grown, these are not the reasons. In the interests of a constructive debate over welfare reform, this paper debunks these and other myths surrounding the Disability Support Pension (DSP).
THE TRUTH ABOUT THE DISABILTY SUPPORT PENSION
People only get DSP if they have a severe disability that has been assessed by medical or other experts chosen by Centrelink.
People with poor vision or hearing, or who use wheelchairs, are not the only ones with disabilities that stop them from working fulltime. For example, over a quarter of DSP recipients have a mental illness.
If your only problem is a back condition, you would have to be in almost constant pain or be unable to sit or move around properly to get the DSP.
Many people, such as multiple sclerosis sufferers and people with recurring mental illnesses, are able to work part time but can't hold down a full time job. Allowing them to keep the pension while they work part time (as the present DSP rules do) is sensible because it encourages DSP recipients to look for work.
The strongest growth in DSP recipients over the 1990s was among mature age women, not older men. The main reason was that alternative payments for mature age women, such as Age Pension for women under 65 were closed off, so those with disabilities claimed DSP instead.
About 5% of Australians of workforce age are on DSP; around the average for wealthy (OECD) countries.
The Productivity Commission estimates that the increase in the cost of DSP over the next 40 years due to population ageing will be more than offset by a reduction in unemployment, as the supply of younger workers dries up.
Only 6% of DSP recipients participate in employment programs and only 9% have a part time job, but the reason for this is not simply reluctance to look for work. Until recently, employment programs were not comprehensively promoted among DSP recipients. Even if they were, there are queues for employment and rehabilitation services for people with disabilities because funding for these programs is capped. The Government could change this, without making it harder for people with disabilities to get the pension.
It's not easy for DSP recipients to get work, even with help. Even if all DSP recipients with some capacity to work participated in employment programs, official evaluations of these programs indicate that less than one on five would get an ongoing full time job in the mainstream labour market within 12 months of starting the program.
TEN MYTHS AND FACTS ABOUT THE DISABILITY SUPPORT PENSION:
MYTH 1: IT'S EASY TO GET THE DISABILITY SUPPORT PENSION (DSP)
FACT 1: YOU CAN ONLY GET DSP IF YOU HAVE A SERIOUS MEDICAL CONDITION THAT HAS BEEN INDEPENDENTLY ASSESSED BY DOCTORS AND OTHER EXPERTS
Assessment for DSP involves:
completion of a detailed written application form;
a face-to-face interview at Centrelink;
written contributions from the applicant's treating doctor and possibly specialists;
assessment of the applicant by medical and/or work capacity assessment experts chosen by the Government, using standardised tests of impairment or work capacity.
 
A person must:
have a serious medical condition that, of itself, would prevent them within the next 2 years from working 30 hours a week or more in any job paying award wages that is available anywhere in Australia; and
be unable to achieve the capacity to work 30 hours a week at award wages even with the benefit of retraining or rehabilitation (except that for a person aged 55 or over, only retraining that would enable them to get a job in their local labour market is considered).
 
More than a third of all applications for DSP are rejected.
MYTH 2: MANY DSP RECIPIENTS DON'T HAVE "REAL" DISABILITIES
FACT 2: THE MEDICALLY VERIFIED DISABILITIES OF PEOPLE ON DSP ARE DIVERSE, RANGING FROM SPINAL CORD INJURY TO MENTAL ILLNESS
Medically qualifying for DSP a disability is considered to be a restriction on a person's ability to engage in the workforce and community life. This is not confined to people who were born with hearing impairments or who have lost the use of their limbs in an accident. The medically verified disabilities of DSP recipients are diverse. For example, one third have musculo-skeletal disabilities (e.g. loss of mobility or limbs), one quarter have psychiatric illnesses, and one tenth have intellectual or learning disabilities (See Figure 1 below).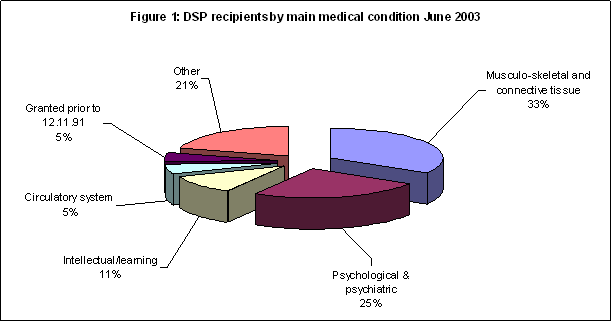 Data source: FaCS 2003a, Characteristics of Disability Support Pension Customers June 2003
Not a great deal has changed from 2003 when at 33.0% the most common medical condition was musculo-skeletal and connective tissue then psychological / psychiatric conditions 25%, followed by intellectual / learning conditions 11%. This is consistent with data collected for June 2008 at 31.1%, 27.6% and 11.2% respectively.
Of the medical categories from 2003 to 2008 again no significant changes in percentages occured, females outnumber males in three groups. These groups are a poorly defined cause (unable to diagnose the exact problem (143 per cent)), chronic pain (13 per cent) and gastro-intestinal system (36 per cent).
Male recipients make up 79 per cent of the amputation medical condition group. The next highest male dominated group is acquired brain impairment with 71 per cent followed by circulatory system with 68 per cent.
Some argue, without providing evidence, that many DSP recipients simply have a sore back. Leaving aside the personal insult attached to these claims, the physical reality for a person with a back injury that would qualify them for DSP is different. They would typically have very restricted movement, be unable to sit or stand for any length of time (often both), and are likely to be suffering severe and often chronic pain with a history of failed efforts to deal with it. For obvious reasons, these conditions are often associated with depression, which is a disability in itself.
Another argument that is sometimes raised is that if DSP recipients can work for up to 30 hours a week, their disability can't be too serious. As indicated above, DSP recipients must be unable due to the disability to work for 30 hours or more in any job. Many people with severe disabilities, such as multiple sclerosis or recurring mental illnesses, can work part time but not full time.
If these people are excluded from DSP, this would discourage them from working:
Those who are still granted DSP would be discouraged from undertaking part time work for fear of losing the pension, and would come to view DSP as the end of the line for their careers.
Many of those who would be excluded from DSP would receive Newstart Allowance (unemployment benefit) instead. But Newstart Allowance has a much stricter income test than the pension that discourages part time work (recipients lose up to 70 cents of their Allowance for every dollar earned, compared with 40 cents if they received the pension).
For these reasons, since 1991, disability pensioners have been allowed to engage in part time work for up to 30 hours a week without automatically losing the pension. This was a sensible reform to encourage workforce participation. The New Zealand Government recently introduced similar changes for the same reason. Many organisations around the world are appealing for a greater integration of all people with disabilities into the workforce.
MYTH 3: GOVERNMENTS HAVE PUT PEOPLE ON THE DSP TO HIDE UNEMPLOYMENT
FACT 3: THAT'S NOT THE MAIN REASON MORE PEOPLE ARE ON DSP. THE NUMBER OF PEOPLE IDENTIFIED AS HAVING A DISABILITY HAS RISEN, BECAUSE DISABILITIES THAT WOULD HAVE GONE UNNOTICED IN THE PAST HAVE BEEN IDENTIFIED AS EMPLOYERS DEMANDED A MORE PRODUCTIVE WORKFORCE AND SOCIAL SECURITY REQUIREMENTS WERE TOUGHENED
From 1990 to 2003, the number of DSP recipients rose from 317,000 to 673,000 – an average increase of about 6.5% each year. Some claim this was due to a deliberate easing of eligibility requirements to conceal unemployment. There is no evidence to support this view. It rose by around 2.1% per year from 2003 to June 2008 reaching 732,367 which served to only fuel such beliefs. ACOSS believe they have identified 3 main causes of the faster than usual growth in DSP recipients from 1990 to 2003.
1. There has been an increase in the identification of disabilities. The Australian Bureau of Statistics estimates that the number of Australians of workforce age identifying a core activity restriction rose from 1.2 million in 1988 to 1.5 million in 1998 (see Figure 2 below). The strongest growth was in severe and profound disabilities, including mental illness. Factors leading to this increased identification of people with disabilities include employers seeking higher productivity from their workers, and stricter social security requirements to actively seek employment and participate in training programs.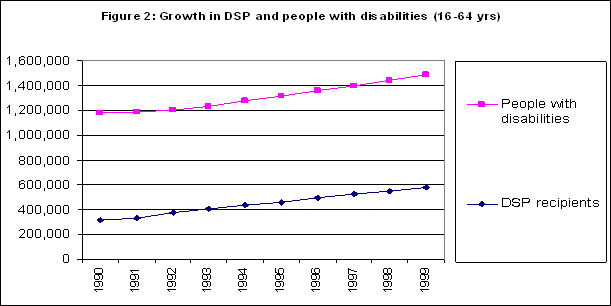 Source: ACOSS 2002
2. Closure of alternative payments such as Wife Pension, Mature Age Allowance, and Age Pension for women aged 60-65 years. People with disabilities who previously would have received these payments now claim DSP.
3. The recession of the early 1990s led to a big jump in new DSP claims, as did previous recessions.  The points of upturn in the rate of growth of DSP numbers coincided with the early recession periods of fast rising unemployment in 1982-83 and 1991-93 (see Figure 3 below).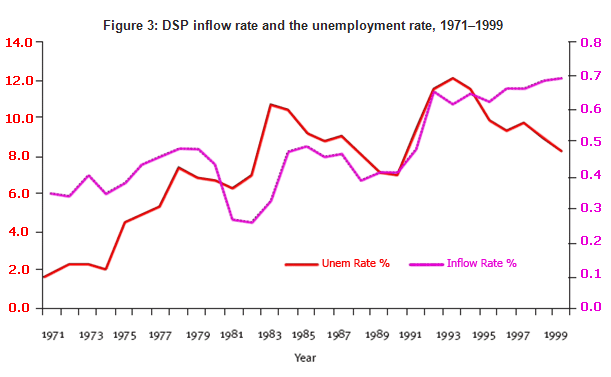 Source: Cai & Gregory 2002 P 133. The unemployment rate was in February each year and taken from Labour Force, Australia, ABS cat. no. 6202.0.
MYTH 4: THE DSP HAS BECOME A DEFACTO EARLY RETIREMENT PAYMENT FOR MATURE AGE MEN
FACT 4: THE FASTEST GROWING CATEGORIES OF DSP RECIPIENTS ARE MATURE AGE WOMEN AND YOUNG MEN
A common misconception is that many mature age men on DSP have only minor disabilities, so the pension has become a defacto early retirement payment. This view is based on the experience of the 1970s and 80s when many low skilled male blue collar workers were pushed into early retirement, or suffered injuries at work. Many received the former Invalid Pension because they had disabilities like badly damaged backs or limbs after working for years in industries with unsafe work practices. In addition, their age, social circumstances and employability were taken into account in assessing Invalid Pension eligibility concessions that was mostly removed in 1991 in favour of a stricter emphasis on medical incapacity.
Since the early 1990s, the fastest growing categories (see Table 4 below) of new recipients were mature age females (mainly due to the closure of alternative payments) and younger men (possibly due to the higher incidence of mental illness and survival from motor vehicle and other accidents). The predominance of mature age men among DSP recipients is likely to diminish further as work and safety practices improve, the proportion of employees involved in manual labour falls, and labour shortages encourage employers to keep mature age workers.
Table 4: Growth in DSP recipients, by sex and age (1990-2003)
DSP recipients by sex and age
As percentage of all recipients in 1990
As percentage of all recipients in 2003
Increase (1990-2003)(number)
Increase (1990-2003)(percentage)
Males under 50
26%
27%
101,000
127%
Males 50 & over
48%
34.5%
81,000
53%
Females under 50
17%
18.5%
71,000
131%
Females 50 & over
10%
20%
104,000
329%
All recipients
100%
100%
357,000
113%
Data sources: FaCS 2003a, ACOSS 2002
"Many older men on disability benefits do not suffer from a serious injury or disease. Often they are on the disability pension because this is a humane alternative to the Job Search Allowance when work is in short supply." –Canberra Times, 28 November 2004 p31: Pensioner Politics Unpopular.
MYTH 5: AUSTRALIA IS TO SOFT, WE HAVE MORE PEOPLE ON DISABILITY PENSIONS THAN OTHER COUNTRIES
FACT 5: AUSTRALIA HAS ABOUT THE SAME PROPORTION OF PEOPLE OF WORKFORCE AGE ON DISABILITY PAYMENTS AS OTHER WEALTHY COUNTRIES
At 5% of the workforce age population, Australia lies about in the middle of disability payment recipiency rates in wealthy countries surveyed by the OECD (see Figure 5 below). The highest rate is in the Netherlands (7%) and the lowest is in Japan (2%). Both the United Kingdom (6%) and the United States (6%) have higher levels of disability benefit receipt than Australia.

Data source: OECD 2003a Table 4.A1.1 p224.
Of concern is that a relatively low proportion of Australian disability pension recipients are employed (under 10%, compared with an OECD average of just over 30%). This proportion would fall even further if the pension were denied to people with disabilities who are able to work part time.
A major reason for the low employment rate among disability pensioners in Australia is that they are less likely to receive help to get a job, or rehabilitation or training. The Australian Government only spends about two thirds of the OECD average expenditure on these services, in proportion to the size of our economy. To contain costs, the number of places available in the main specialist program of employment assistance for people with disabilities "open employment services" are capped, so there are queues for help. As a result, in Australia a relatively low proportion of disability pensions recipients receives help with employment or training (see Figure 6 below).

Source: OECD 2003b, Chart 5.2 p 116. OECD 2003b Chart 3.7 p 39. OECD 2003b.
MYTH 6: FUTURE GOVERNMENTS WON'T BE ABLE TO AFFORD TO PAY DISABILITY PENSIONS UNLESS THE RULES ARE TIGHTENED NOW
FACT 6: AN AGEING POPULATION WILL INCLUDE MORE PEOPLE WITH DISABILITIES, BUT THE PRODUCTIVITY COMMISSION ESTIMATES THAT GROWTH IN DSP COSTS WILL BE MORE THAN OFFSET BY FALLS IN UNEMPLOYMENT
The recent Productivity Commission Draft Report on the Economic Effects of Population Ageing estimated that expenditure on DSP would rise from 0.9% to 1.1% of Gross Domestic Product (GDP) over the next 40 years – an increase of 0.2%. But spending on unemployment allowances was estimated to fall from 0.8% to 0.3% of GDP – a reduction of 0.5%, due to a reduction in the annual growth in the workforce as the population ages.
MYTH 7: AUSTRALIANS WOULD SUPPORT A "GET TOUGH" APPROACH TO DISABILITY PENSIONS
FACT 7: AUSTRALIANS BELIEVE PEOPLE WITH DISABILITIES SHOULD BE SUPPORTED TO PARTICIPATE IN THE JOBS MARKET TO THE BEST OF THEIR CAPACITY
The Social Policy Research Centre (SPRC) at the University of New South Wales undertook a survey of the Australian community's attitudes towards unemployment, activity testing and mutual obligation for the Government in 1998. It found that about half felt it was reasonable to ask disability pensioners to participate in some form of retraining, to participate in their community, or improve their literacy skills.
However, there was only very limited support for people with disabilities to be asked to look for work (33%), complete a "dole diary" (26%), take part in a "work for the dole" scheme (25%), or accept any paid job offered (18%) – conditions normally attached to receipt of Newstart Allowance.
In relation to both people with disabilities and older people, they concluded:
"Where there was more widespread support for some expectations being placed on these other groups, it was mainly in the areas of training, requiring them to undertake useful work in the community and remedial literacy. This suggests that the Government may need to be cautious about the extension of mutual obligation to these groups if it wants to carry public opinion with it. Certainly it seems that emphasis would need to be placed on providing effective assistance and support to make it possible for older people and those with a disability to get back to work."
Other research for the Government on public attitudes towards welfare reform drew similar conclusions.
MYTH 8: THE GOVERNMENT HAS TO REIN IN GROWTH IN DSP TO REDUCE "WELFARE DEPENDENCY" AMONG PEOPLE WITH DISABILITIES
FACT 8: STOPPING PEOPLE FROM GETTING DSP WOULD DIVERT THEM TO OTHER WELFARE PAYMENTS
Many people with disabilities already receive social security payments other than DSP. If the Government makes it harder to get DSP, most future recipients would simply be diverted to these other payments. For example, there are 50,000 Newstart Allowance (unemployment benefit) recipients identified as having an illness or disability, and their number grew strongly throughout the 1990s. (see Figure 7 below).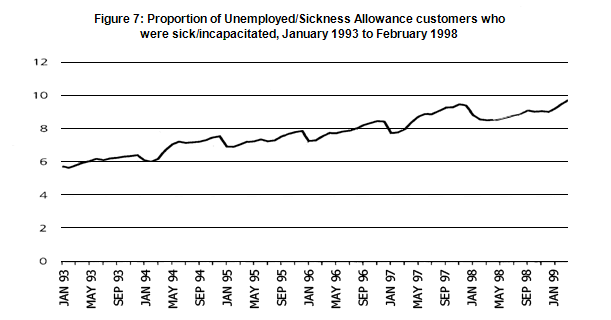 Source: Warburton et al, 1999
There are many people with disabilities on other payments as well. For example, a recent study estimated that one in five sole parents on Parenting Payment suffer from depression.
When the Government proposed to restrict access to DSP in its Disability Reform Bill (2002), officials estimated that all but 2% of people who would have missed out on the pension would instead receive another social security payment, mainly the lower-paid Newstart Allowance.
Productivity Commission 2004b. The report implies that the Government's proposed changes would have the effect of roughly freezing DSP expenditure as a proportion of GDP (despite growth in the proportion of people of workforce age with disabilities, due to population ageing), effectively reducing spending by about 0.2% of GDP in about 40 years' time.
MYTH 9: GETTING PEOPLE OFF DSP WOULD OPEN UP TRAINING AND EMPLOYMENT OPPORTUNITIES FOR THEM
FACT 9: THE GOVERNMENT COULD OFFER THOSE OPPORTUNITIES TO PEOPLE ON DSP
Most people of workforce age who have disabilities want to work, provided they can find employment within their capacity. When people with disabilities on social security payments have been asked to voluntarily participate in employment programs, take up has been strong.
The greatest barrier to employment for people with disabilities is often community attitudes to disabilities rather than the disability itself or a reluctance to return to work.
Another problem is that until recently, Governments have made no systematic attempt to enrol DSP recipients in job and rehabilitation programs. Those who want to participate are often confronted with waiting lists due to a shortage of places in employment and training programs that specialise in helping people with disabilities – Disability Employment Assistance and CRS (Rehabilitation). Funding for these programs is capped.
The Job Network is an alternative employment program where places are not capped, presumably because Job Network places are much cheaper. But only 6,500 DSP recipients participated in "intensive assistance" services provided by the Job Network in 2002 (just 2% of all participants in intensive assistance). The main reason for this very low level of participation is that the Job Network is not properly resourced to meet their needs.
The highest level of assistance within the Job Network is now Customised Assistance, during which providers can draw on a "Job Seeker Account" to fund training, job placements and other help to overcome barriers to employment. But the amount available for each highly disadvantaged job seeker is only about $1,300. This won't buy much rehabilitation or training. Job Network funding is well below that available to the specialist programs of employment assistance for people with disabilities described above.
As a result of this under-investment in employment assistance for people with disabilities, only about 6% of the overall number of people on DSP in 2002-03 participated in an employment program (see Table 8 below). It is not surprising, then, that many recipients regard DSP as "dead end payment." But this is not inevitable – people can and should be encouraged to participate in rehabilitation and training and to take on part time work while still on the pension.
Table 8: Places in employment programs filled by DSP recipients (2002-03)
 
Open Employment services for people with disabilities
CRS (rehabil-itation)
Job Network (Intensive Assistance)
Personal Support Program
Total
DSP recipients in program
26,313
5539
6500
4000
42,352
Total program places
42,161
22,704
280,000
40,185
385,050
Proportion of program on DSP
62%
24%
2%
5-10%
11%
Proportion of DSP population over the year (728,273) in a program
3.6%
0.8%
0.9%
0.6%
6%
Data source: FaCS 2003a, 2003c, 2003d, DEWR 2003.
MYTH 10: RECENT PILOT PROGRAMS SHOW THAT MANY DSP RECIPIENTS CAN GET A JOB WITH ONLY MINIMAL EMPLOYMENT ASSISTANCE AND TRAINING
FACT 10: EMPLOYMENT PROGRAMS DO HELP PEOPLE WITH DISABILITIES INTO JOBS, BUT OFTEN FURTHER INVESTMENT IN REHABILITATION, TRAINING AND SUPPORT IS REQUIRED AT THE WORKPLACE
Employment assistance is a worthwhile investment both for people with disabilities and for Government. But we should be realistic about the job prospects of disability pensioners in the short to medium term. It is estimated that the chances that an average DSP recipient will obtain ongoing full time employment in a mainstream job within 12 months of participating in one of these programs are ess than one in five. That is, at least four fifths of program participants who are on DSP miss out on secure full time work that would take them off social security.
This estimate is based on the findings of a number of official evaluations of employment assistance programs and trials for people with disabilities. They include the recent Job Network pilot program for people with disabilities, in which less than 10% of participants obtained a job for more than 15 hours a week and sustained it for more than 3 months.
This underscores the difficulties facing people with disabilities in today's jobs market. Full time jobs with low skill or productivity requirements — such as labouring or basic clerical jobs — have been diminishing over the past decade and a half. From 1990 to 2000, there was a net loss of 200,000 low skilled full time permanent jobs, while over the same decade there was a net increase of 387,000 full time permanent managerial or professional jobs. There are more part time and casual jobs, but they typically don't provide enough regular income for people to move off social security.
People with disabilities are a very diverse group – from former labourers to university professors. But on average, they come from lower skilled occupations and have lower education levels. These two factors, together with the high levels of productivity demanded by employers today, have worked against them in today's jobs market.
This means that helping people with disabilities who have a capacity to work into secure, well paid employment requires a big investment in rehabilitation and other employment assistance, and major changes in the workplace. There are no cheap or easy options. In the meantime they need adequate, secure income support through the social security system.
OUTCOMES FOR DSP RECIPIENTS IN EMPLOYMENT PROGRAMS
A number of studies and data sources support estimates that less than 20% of DSP applicants who participate in employment programs obtain "substantial employment" within 12 months. We use as a benchmark of "substantial employment" a "mainstream" job of at least 20 hours' employment for at least 13 weeks within 12 months of commencing a program. This is almost enough regular employment to remove a person from Newstart Allowance.
1. Assessment and contestability trial (2000-2002):
After 1 year on the trial, with labour market assistance, only 10% of participants were in open employment for more than 20 hours per week. One quarter of participants were employed after 1 year, but most were employed for less than 20 hours a week.
This trial was voluntary and only 30% took up the option, so those assisted were less disadvantaged than the overall target population (technically speaking, there was a selection bias). A majority of participants were on Newstart or Youth Allowance rather than DSP, and were likely to be less disadvantaged in the labour market than average DSP recipients or applicants (though the long term DSP recipients in the trial were probably more disadvantaged than new DSP applicants – the group likely to be affected by any DSP changes).
2. Case based funding trial (2001):
After 18 months of assistance from an open employment assistance provider, less than 20% of participants were in full time mainstream employment for more than 6 months, and most were employed as casuals. Most of these outcomes were achieved within the first 12 months (of those not placed in employment within that time, only 8% obtained a job within the next 6 months).
This trial population was a less disadvantaged one than for the Assessment and contestability trial, excluding those in supported employment (i.e. "business services"). Half were on DSP and they achieved lower outcomes than the rest. Participation was voluntary and providers rejected some applicants so there was selection bias favouring people "easier to place" in employment. Outcomes were relatively low for psychiatric conditions, brain injury, and vision impairment.
3. CRS (2002-03):
In 2002-03, of DSP recipients in CRS over about a 12 month period, 23% obtained a mainstream job for 13 weeks or more, but an unknown proportion of the jobs were casual, or less than 20 hours.
4. Job Network DSP pilot (2003-04):
After 10 months of participation in this pilot scheme, in which people were offered Intensive Support from Job Network providers, less than 10% of those participating in the pilot secured employment of more than 15 hours a week for at least 13 weeks (a "primary outcome").
The trial population comprised 1,130 DSP recipients who voluntarily met with specialist disability Job Network members (an unknown number declined to participate). Of these, 790 (70%) commenced Intensive Support after being assessed as suitable. For this reason, and due to the voluntary nature of the pilot, there was a selection bias favouring people "easier to place" in employment. Ten were placed in full time jobs, 75 in part time work and 135 in casual jobs. Over the course of 10 months of Intensive Support, 64 primary outcomes were achieved, with a further 9 pending.
The highest level of funding available to assist a job seeker through the Job Network is around $7,600 (only paid if the person achieves sustained employment) , compared with funding levels of $5,600 $8,500 $12,300 and $18,000 for open employment services for people with disabilities, depending on the severity of the disability. In fact, the Government has already acknowledged that these funding levels for open employment services are inadequate, and budgeted in 2003 to raise them substantially.
In 1998, 44% of men with disabilities and 49% of women with disabilities (of workforce age) did not complete high school, compared with 28% of other men and 36% of other women of workforce age.
REFERENCES
ABS 2003, Disability, Ageing and Carers, Australia: Summary of Findings, Cat No 4430.0, Australian Bureau of Statistics Canberra.
ACOSS 2002, ACOSS Info 322: Key Causes of the Rise in Disability Pensioners, ACOSS Sydney.
AIHW 2000, Disability and Ageing, Australian Institute of Health and Welfare Canberra.
Borland, Gregory & Sheehan, 2001, Inequality and economic change, in Borland et al, Work rich, work poor, Victoria University, Melbourne.
Butterworth P 2003, Estimating the prevalence of mental disorders among income support recipients, FACS Policy Research Paper 21.
Cai, L 2004, Length of completed spells on the Disability Support Pension (DSP) program, Australian Social Policy 2002-2003, Department of Family and Community Services Canberra.
Cai, L & Gegory, R 2002, Inflows, outflows and the growth of he Disability Support Pension (DSP) program, Australian Social Policy 2002-2003, Department of Family and Community Services Canberra.
Colmar Brunton Social Research 2001, Qualitative research into welfare reform messages.
Canberra Times 2004, Pensioner Politics Unpopular, Canberra Times Newspaper 28 November 2004, p31.
Centrelink 2004, A guide to Australian Government Payments 20/9/04 – 31/12/04, Centrelink Canberra.
DEWR 2003, Post-Program Monitoring Reports for March and June quarters, Department of Employment and Workplace Relations Canberra.
DEWR 2003b, Employment Services Contract 2003-2006, Department of Employment and Workplace Relations Canberra.
DEWR 2004, Job Network Disability Support Pension Pilot: Interim Evaluation Report, Department of Employment and Workplace Relations Canberra.
DSS 1995, Evaluation of the Disability Reform Package, Department of Social Security Canberra.
Eardley, T & Saunders, P & Evans, C 2000, Community attitudes towards unemployment, activity testing and mutual obligation, SPRC Sydney.
FACS 2002, Case based funding trial final evaluation report, Family and Community Services, Canberra.FaCS 2003a, Characteristics of Disability Support Pension Customers June 2003, Department of Family and Community Services Canberra.
FaCS 2003b, The Assessment & Contestability Trial Evaluation Report, Department of Family and Community Services Canberra.
FaCS 2003c Commonwealth Disability Services Census 2001, Department of Family and Community Services, Canberra.
FaCS 2003d, Annual Report 2003, Department of Family and Community Services Canberra.
FaCs 2003e, Improving Employment Assistance for People with Disabilities Fact sheets; Open Employment Services and Business Services, Department of Family and Community Services Canberra.
FACS 2004, Case based funding statistical update, Department of Family and Community Services, Canberra.
Hansard 2002, Senate Community Affairs Legislation Committee 2002 Budget Estimates hearings Monday 3 June 2002. Howe B 2004, Empowering the disabled. Paper for ACE National Conference, Melbourne September 2004.
International Social Security Association 2004, Trends in social security, No 4 2004.
McClure 2000, Participation Support for a More Equitable Australia – Final report of the reference group on welfare reform, Department of Family and Community Services Canberra.
OECD 2003a, Employment Outlook 2003, OECD Paris.
OECD 2003b, Transforming Disability into Ability, OECD Paris.
Parliamentary Library 2002, Bills Digest No 157 2001-02, Department of the Parliamentary Library Canberra.
Productivity Commission 2004a, Review of the Disability Discrimination Act 1992.
Productivity Commission 2004b. Economic implications of population ageing, draft report.
Warburton et al, 1999, Incapacity among unemployed customers, Australian Social Policy 1999/2, Department of Family and Community Services Canberra.
Wilkins R 2003, Labour market outcomes and welfare dependence of persons with disabilities, Melbourne Institute of Applied Economic and Social Research working paper 2/03.
WEBSITES
Australian Bureau Of Statistics (ABoS), http://www.abs.gov.au
Australian Council of Social Service (ACOSS), http://www.acoss.org.au
Department of Families, Housing, Community Services and Indigenous Affairs (FaHCSIA), http://www.facs.gov.au